I started singing and playing at a young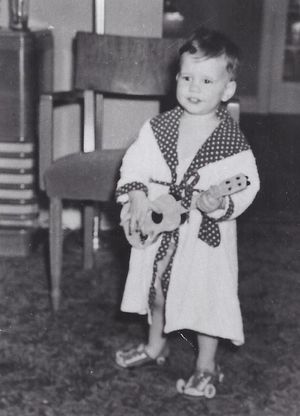 age.  This is a picture from an early "house concert".  I sang Folk during the 60's and 70's, and started writing my own material.  I shared the stage with such notables as Dan Folgleberg, when we played a coffeehouse called The Red Herring in Urbana, IL, and with Steve Goodman and Tim Post up in Chicago.  I started a trio called The Third Society, which actually made an appearance on The Mike Douglas Show in the early 70's.  Even though I gave up dreams of stardom, went back to school and got my day job teaching English,  I continued to play and sing and write.  Since I am a tenor, I did a lot of John Denver and threw in a few Irish ballads, because I loved the rich imagery and storytelling in both of those generes.  I'm the grandchild of immigrants from Cavan, Ireland, and the music of Ireland feels...well, almost genetically familiar to me.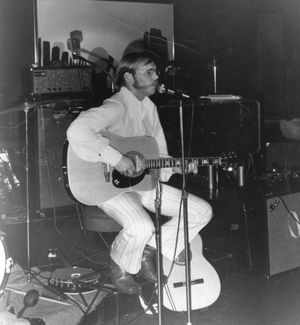 In the mid 80's, I earned a BA in World Religions and a graduate degree in Linguistics and Cultural Anthropology, and taught both English and History.  By the 90's, my wife Cindy and our family were living in Boulder, CO.  At an Altan concert, we found a flier announcing a local Irish music competition with a first prize of an all expenses paid, two week trip to Ireland. At Cindy's urging, and figuring I had nothing to lose,  I entered and won the final round with a ballad called "Grace".  We went to Ireland for a song, literally!  Once I had seen my ancestral homeland, sung in the pubs, and heard the  magic in the music of that beautiful, green island, I was hooked.  Later that year, I got together with two Irish born musicians, that I had met through the competition, and we formed The Irish Chancers.  There was James Kennedy from Galway, a talented singer/ bodhrain player, and Jim Abbott from Antrim, who was a great guitar, whistle and bouzouki player, and a living wealth of lyrics and songs. Later, we added Maryann Gardner, a fine fiddler from Sligo. Everybody sang!  We played regularly and became locally famous in the Denver area, and also recorded two CDs that we still get requests for.  During those years, we opened for the likes of Frankie Gavin and Andy Irvine.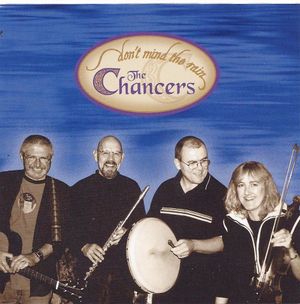 In 2004, my family and I left Colorado for Arizona.  Although I performed less, I took time to promote some of my original compositions.  One of my favorites is "Alanna Mo Chroi" (Darling Child of my Heart).  It's an emmigration song that came from memories of conversations with my grandparents about their own crossing of the ocean to build a new life in "Amerika".  I entered it in the Collins of Dublin songwriting competition, which was held at Milwaukee Irish Fest in 2004. It was the unanimous choice of the judges.  I then took Alanna to the North American Fleadh Cheoil na Eireann; the Irish traditional music competition.  Alanna and I took a first place gold, awarded by Comhaltas NA, and we were off to Clonmel, Tipperary, Ireland to the world competition. (You can hear all of my songs, along with my covers of some traditional ones, on the music download page.) 
My wife, Cindy, and I have also been seriously pursuing and developing our abilities in another area of interest that we share: Parapsychology, World Spirituality and The Paranormal.  Our specific focus is communication between the different levels of spiritual and temporal/physical existence.  In 2018, I retired from teaching and I have been able to devote more time and effort to music and the paranormal.  Four years later, Cindy sold the company she had built and administered over the past fifteen years, and we have been working together to develop our paranormal understanding and abilities. To learn more about this, please go to:
rowantreegroves@gmail.com or follow @RowanTreeGroves  on TikTok.